Great British Beer Festival 2021
Tuesday 13 July 2021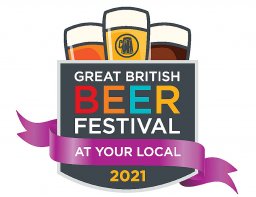 In the absence of a single Olympia gathering this year due to Covid-19, CAMRA is encouraging licensees to hold activities celebrating real beer and cider as part of a Great British Beer Festival (GBBF) at Your Local event from 30 Jul-8 Aug
GBBF at Your Local, just a week after the proposed date Covid restrictions are set to end, hopes to present the very best the nation's pubs, clubs, breweries and cider producers have to offer.
The GBBF is normally held in August at the London Olympia, but has been cancelled in both 2020 and 2021 due to the coronavirus pandemic.
The GBBF at Your Local is right at the heart of CAMRA and hopes to help encourage footfall to pubs and clubs and increase demand for brewers and cider makers.
In previous years, GBBF has attracted more than 38,000 fans and CAMRA is hoping that in the year the industry needs it most, those beer and cider lovers will come out to support independent and local businesses.
Suggested activities include: special guest beers; mini beer festivals; meet the brewer sessions and tastings; brewery tours and other ways to promote cask conditioned brews and real cider.
Events can be submitted via the GBBF at Your Local website and will be promoted on dedicated social media channels throughout the summer. Online and printed marketing materials will be available from July. Go to https://local.gbbf.org.uk/ or email: ku.gro.fbbg@lacolFBBG to find out more.