Midweek Social to Salcombe
Our previous venture to Salcombe was in the middle of summer. Everywhere was overcrowded resulting in a not particularly pleasant day out. So this time we went in February, on a wet and windy day. At least the temperature was mild for February. The pubs and streets were a lot less crowded making for for a much better experience.
There were just six ventured forth, we managed to find our way to Salcombe and to all the pubs despite the absence of our leaders. Both Chairman Bob and Vice Chairman Ian were unable to attend.
We arrived in Salcombe, thanks to Tally Ho's 164, just after midday and headed straight to the Victoria. Unfortunately there was no one around to serve us, so, after 5 minutes, we moved on to the Ferry Inn, a Palmers Pub.
Palmers brewery is in Bridport, Dorset, where they have brewed on the same site since 1794. Two of their beers were available to us:
Dorset Gold (4.5%abv) a golden ale priced at £4.80/pint Less hoppy, thirst quenching and zesty. A blend of malted barley and wheat
Tally Ho (5.5%abv) A multi award-winning dark strong ale priced at an eyewatering £6.30/pint. The beers were in fine form and much enjoyed by the team. We don't often get the chance to try Palmers, there are only two other outlets in our area: The Watermans by Bow Bridge and the Sea Trout in Staverton.
After the Ferry Inn we decided to give the Victoria another chance; this time we were successful in getting served. Being a St. Austell pub the choices were Tribute, priced more reasonably at £4.00/pint, or Proper Job
Our next move simply involved walking across the road to the King's Arms, a Stonegate pub. The choices here were Doom Bar and two from Salcombe Brewery: Lifesaver at £5/pint and Gold.
The final pub in Salcombe was the Fortesque another Stonegate pub where, appropriately Salcombe Brewery ales were again available, my choice being Salcombe Gld at 3.5%. It was suddenly realised that the next 164 was leaving in 10 minutes and if we missed it we would have to wait another hour. So a quick step up the hill to the bus stop was called for. All members were successful.
Everyone alighted in Kingsbridge went to the Creeks End for a final beer. There was Tribute and GK Abbot Ale, a beer we don't see very often, so that was the choice of most of us.
That was the end of the day everyone departed to catch their buses homeward. An enjoyable day, Details of future trips can be found here.
Later addition: Except that the 164 goes north or south from Kingsbridge, so an unplanned trip back to Salcombe for some. Time for another pint and a bite to eat before a Kingsbridge bound 164? Well, not exactly, cos this next bus broke down. Eventually rescued by Tally Ho back to Totnes into the Albert Inn for sustenance while awaiting homeward transport!
Details of all the pubs in Salcombe can be found here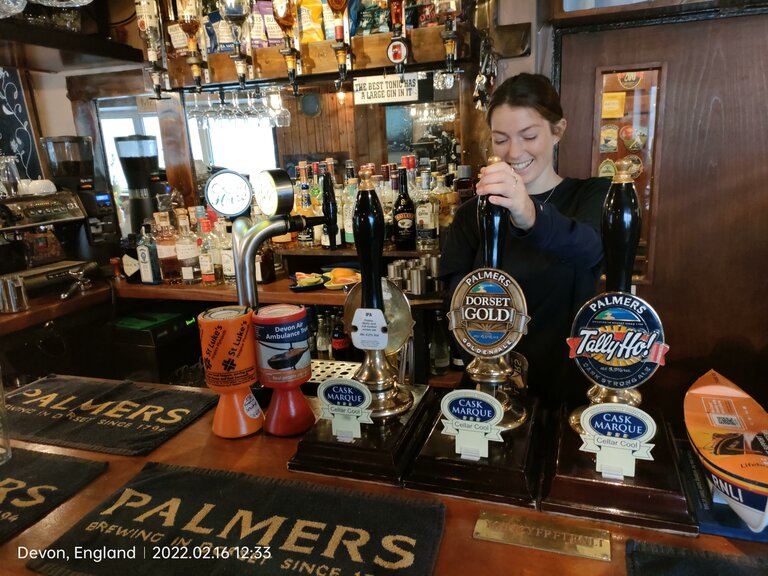 The top bar in the Ferry Inn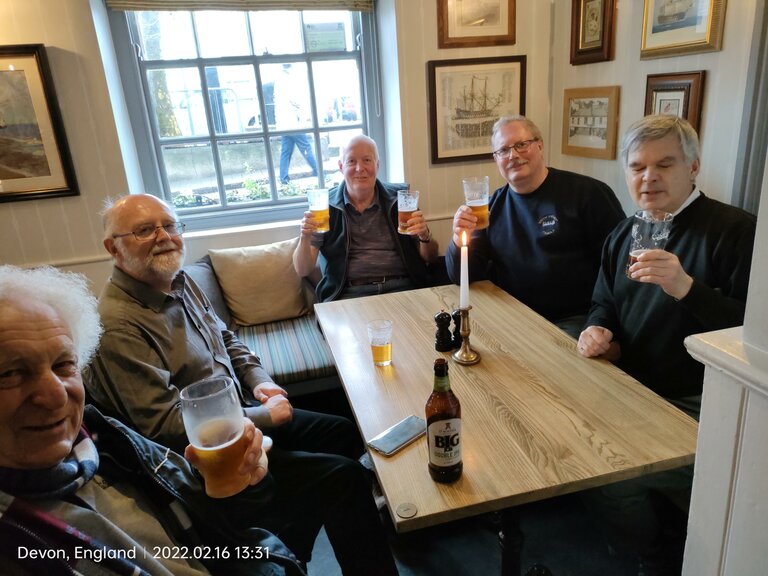 Some of our team in the Victoria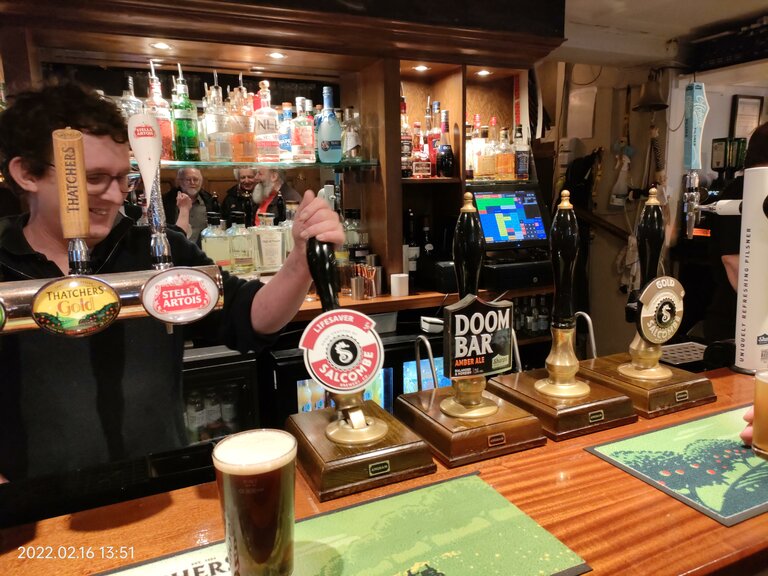 Handpulls in the Kings Arms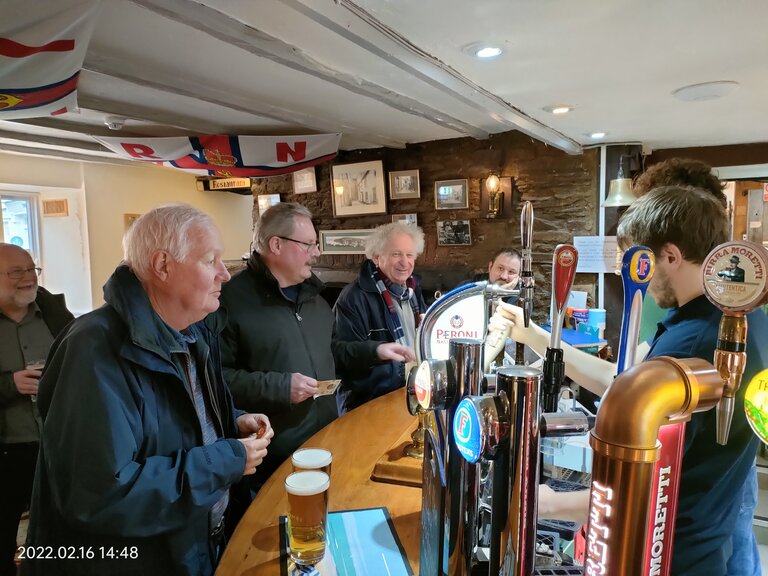 Battling with the font barrier on the bar in the Fortesque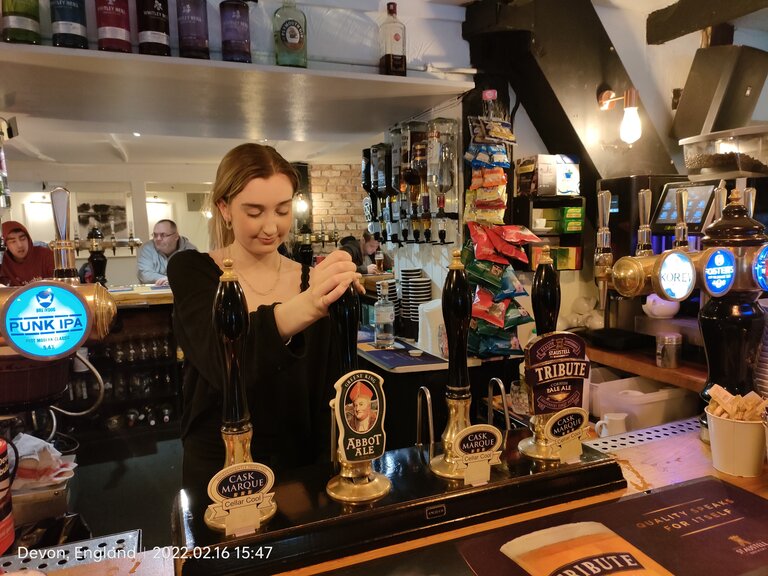 Abbot Ala & Tribute on the bar at the Creeks End